A few years ago my house was burgled on my Birthday :(. Various Items were taken:
My sons Xbox,
A few Xbox games
Some cash
The TV remote (I know!!)
My laptop
While the other elements could be replaced quite easily the laptop contained my PHD, which by this time had become a considerable amount of work (three years). It was then that I realised there was no physical backup of my work on a USB, CD or on my work PC. For a fleeting moment there was panic, mad panic but then the calm descended when i realised I had a "virtual" backup on my Dropbox account.
What is Dropbox?
Dropbox is a cloud based file management system that can allow the access of your files across multiple mobile and desktop based devices. It is web based so you will need to create an account, however this does give you access to 2GB worth of data for free. Additional storage can be purchased if required.
In order to illustrate how a cloud based system works we take the example of simple word document. You could be working on a word document on your laptop and you could then continue to work on the same document on your iPad or mobile device. It is flexible and powerful which sits outside of normal operating systems and their proprietary file systems, as shown below: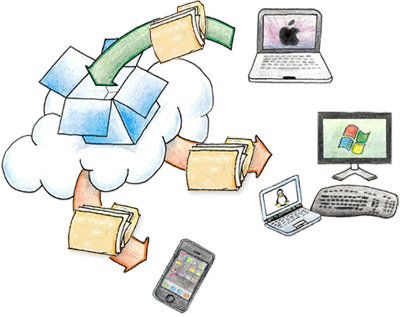 This tool was essential in helping me recover my PHD data that was stored on my stolen laptop. This was achieved through a simple process of logging on to the dropbox website and re-downloading the work …. easy.
Can I use Dropbox within my research?
As Well as being a great solution for backing up your work Dropbox is also an extremely effective file system which works powerfully with other apps. To gain the maximum benefit from dropbox within your research it is important to create a "process" that takes into account your workflow and the devices you use.
Below I have outlined some examples of how Dropbox can be used within your research:
Dropbox allows you to read articles across multiple devices.
Dropbox alongside the use of iAnnotate PDF allows you to view,edit and annotate PDF formatted articles or documents on your iPad for later viewing on your desktop PC.
Dropbox alongside endnote and mendeley can be used for reference management, hence you can access your references anywhere.
Dropbox alongside a word processor allows you to work on your articles or research on mobile devices.
Dropbox will manage your research across all your devices so you are always working on the latest version.
While this is not an exhaustive list it does open up the possibilities of utilising cloud based systems in the development of efficient research processes.
Ethical issues around Dropbox?
However many still view dropbox with suspicion and hesitate to take the plunge with this type of cloud based system. Citing issues around privacy, trust, security and ownership of work as key decisions in staying away from this type of system. In response to this Dropbox prides itself on being one of the most secure cloud based systems on the web with high grade military encryption.
If you would like to talk about how I have used dropbox as part of my teaching and research please do get in touch via my institution webpage or leave a comment below.
Thanks